Sleuths India - Legal Assistance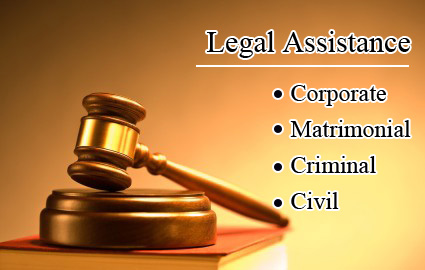 Private investigation is one of those segments where an encounter with the law is a routine phenomenon. Being a leading player of the domain, Sleuths India is completely aware of the scenarios that make the law binding to everyone. Similarly, we understand the vast significance of legal assistance so that individuals and corporate houses are always kept under the prescribed preview.
Sleuths India, in fact, knows that only right kind of legal assistance is required by the clients to stay away from the legality to prosper on the expected lines. Keeping this in mind, we provide legal assistance to ensure that you get the right solution for the precise needs. We don't directly provide legal services or legal assistance, but we have empanelled lawyers for the tasks.
Our team of lawyers is experienced, skilled and competent to handle variety of cases for clients. Our empanelled lawyers have appropriate domain experience for criminal cases, corporate cases and matrimonial cases. The team is distinguished as it has handled some high-profile cases. We have appointed senior lawyers who're skilled enough to understand the pros & cons on the legal system in India.
We are here to let you receive best of legal assistance in timely manner to tide over any risks or dangers. Trust us to deliver you legal services that promise to strengthen your commitment to growth and prosperity. With us, you're sure to blossom and reach to the intended destiny.
Trust our team of senior lawyers to bring justice to you, to keep you free from any legal burden that might jeopardy your future prospects. Have faith is us and our years of legal expertise. Let we grow together and reach out targets without any worries of law.
Plz call us our toll free number for legal assistance.
Empaneled Lawyers
Sleuths India has a panel of lawyers to help clients seek legal consultancy or advice in different matters. These empaneled lawyers are there to seek guidance and suggestions for any matters pertaining to the law. You however have to pay a fee to seek their services or avail any advice from the lawyers.

Mr. Sanjeev Sharma
Mr. Sanjeev Sharma is a distinguished advocate and practicing lawyer for over 25 years. He is credited to have successfully handled some of high-profile cases in the matters of criminal law like murders, rapes and kidnappings etc. He has won many awards and laurels in defending clients in the matters of criminal law. He has been practicing Law in the matters of Public Interest Litigations, Corporate Litigations, Land and Property Disputes. Further, he is widely acclaimed for acute knowledge and expertise in matrimonial matters. He has been a well-known advocate in the Supreme Court of India, Delhi High Court, District Courts, Punjab & Haryana High Court and 12 different High courts of the Country, Principle Bench Central Administrative Tribunal, National/ State Consumer Dispute Redressal Commission.

Mrs. Ranjana Dutta
Mrs. Ranjana Dutta is a well-known lawyer and she been practicing since 1991. Possessing a strong legal experience, she has had a stellar career and she is someone with many laurels in the corporate legal domain. She started her career from Delhi High Court and then served the corporate world with distinction. She is known for years of legal experience and has been associated with some of high profile cases in the corporate world. He has handled wills and property cases for years and delivered great results and defended clients with admirable success. Her extensive experience in the corporate makes her a popular and powerful advocate.
The Above Bench of Advocates may be directly contacted for any help or advice on the given Contact Numbers:
+91-9911196574 (24 x 7)
+91-11-49124812
+91-9811198812
+91-9810580779
+91-8800884812
They may be alternatively contacted at legal.service@sleuthsindia.com