India's top lady detective is the director of Sleuths India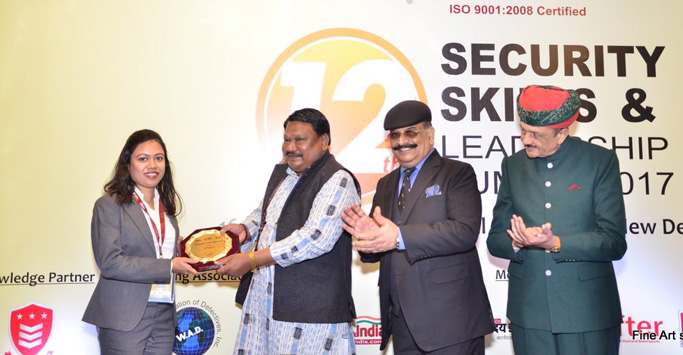 Nidhi Jain is a highly-acclaimed lady detective in India working as the director with Sleuths India - an award-winning and perhaps the most-trusted private detective agency in the country. A winner of the prestigious "Investigation Leadership Award" for 2017, she is a renowned detective with an enviable professional career marked by an impeccable track record and big contributions the domain. Read more..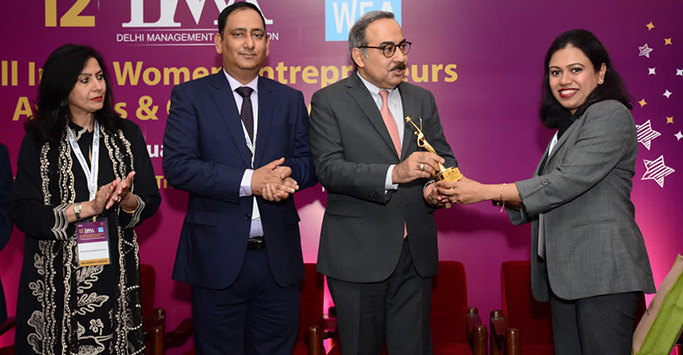 Sleuths India director Nidhi Jain has proved her matchless leadership credentials again and brought yet another big glory for her premier agency. She has now become the first ever female/lady detective detective in India to win the prestigious. All India Women Entrepreneur Award 2023 from Delhi Management Association (DMA) Delhi wing of All India Management Association (AIMA). The award is a massive recognition for all the great works Nidhi Jain has done in the field of investigation. It's also a true testament to her continuous dedication and commitment to innovation in the field of business. Read more..
About Nidhi Jain


Nidhi Jain is associated with an agency known for its investigative brilliance and awarded respectively by the President of India in 2012 and the Ministry of Home Affairs in 2014. As a director, she oversees operations of all four branches of the company which are in posh localities of New Delhi, Mumbai, Hyderabad and Bangalore. She forms the core of investigative team of an agency which is the undisputed leader of the domain.

She presides over day-to-day activities, collaborates with branch managers, strategizes over cases and personally handles investigations of complex nature. She also leads the team of lady detectives, guides them at every step of the way and prepares them to add value to an agency with pan-India presence and vast networks. She excels at the job on the back of great leadership skills and superlative investigative prowess.

Nidhi Jain leads from the part by being personally involved in investigative cases of any nature and scale. In an enriching career, she has been part of many high-profile and much-publicized cases in India, and has also worked with top politicians, celebrities, and corporate honchoes in the country. She is guiding forward an agency that boasts of a team of IB offices and retired army officers etc. and possesses the most advanced spy gadgets and equipment in the domain.

An MBA in finance, she started her career as an investment banker and was later introduced to the field of private investigation by one of promoters of the agency, Mr. Naman Jain. Her corporate journey has been immensely successful with several media houses and publications from across the world highlighting her feats and contribution to the domain with regular reportage.

She has extensively been covered by some of prominent national dailies, including Navbharat Times, Hindustan Times and the Times of India etc. Nidhi Jain has exhibited a remarkable level of investigative brilliance and achieved many successes over the years. Her contribution to the domain has also been highlighted by DD Prasar Bharati-sponsored documentary

Besides, she has also graced a number of leading English newspapers, dailies and magazines with her investigative skills and track record of solving pre-matrimonial and matrimonial cases. She also remains the only lady detective in India to have featured in the leading International Fashion Magazine from Italy, Gracia.

Even Outlook Magazine saluted her excellent credentials as a lady detective and gave her a lavish mention in its October 23, 2017 edition. The magazine richly details how she's been a pillar to Sleuths India guiding the company admirably and bringing it success.


Nidhi Jain In Media
| | |
| --- | --- |
| | Sleuths India director Nidhi Jain gets a big coverage in an International Fashion magazine. Nidhi Jain has brought a great achievement for Sleuths India by finding coverage in a coveted International Fashion magazine. The lady grabs a meaty mention in the March Edition of GRAZIA - the Indian edition of the Italian women's fashion and celebrity gossip magazine. The monthly magazine covers fashion, health, and current events. Detailing celebrity gossips from all parts of the world, the magazine has chosen Nidhi Jain for her pioneering works and amazing spirits exhibited at the helm of a leading detective agency. More prominently, the magazine carries the article under the theme, "…the making of the No 1 Lady Detective," which speaks volume about the woman in charge of a premier detective agency. In overall, it's really a proud moment for a private detective agency to the stature of Sleuths India. |
| | Sleuths India director Nidhi Jain gets rich coverage in a Prasar Bharti-sponsored documentary film. Sleuths India director Nidhi Jain has made the agency and industry proud yet again. This time, she has featured in a Prasar Bharati-sponsored documentary film aired on National Doordarshan Channel on 12 August, 2017. The film, titled, "The Open Frame" details how a JASOOSNI (lady detective) excels against all odds in a profession considered a male territory. The documentary details the daily hectic corporate schedules of Nidhi Jain and shows how she had to coordinate four branches of Sleuths India – the most trusted private detective agency in India. More importantly, the documentary has selected Sleuths India and its director for this special coverage, which is ample indication of its leadership position in the industry. The lady is shown overseeing day-to-day operations in consultation with the MD, Mr. Naman Jain, and helping the premier agency solve cases and help people across India. |
| | Outlook magazine gives big coverage to Sleuths India director Nidhi Jain. Sleuths India director Nidhi Jain continues to bring laurels for her agency and profession alike. This time, the feisty lady detective has bagged a rich coverage in the leading English magazine, Outook, in its edition of 23rd October, 2017. The story salutes the spirit of Jain and details her success in a risky field of private investigation. It mentions how the director had busted a fake insurance scam in Delhi and helped police nab the main suspect by taking the guise of daughter of the victim. The story also highlights how Nidhi has succeeded despite facing resistance from a conservative family and chose a domain that fascinated her from the childhood. She obviously has the talent and possesses a great desire to excel which has helped her scale new highs in the field of private investigation. |
| | Sleuths India MD makes the company proud once again : - Sleuths India MD – Nidhi Jain – continues to make the company proud. This time, she has grabbed a rich mention in a national English daily – Deccan Herald – in its Wednesday, 11th 2016 edition. Nidhi Jain grabs a rich space in a story focusing on the challenges and risks women face in the domain of private investigation. The story, titled, "Meet the Miss Marples in town" shares views of the MD and gives her a glowing coverage right through. The coverage is a true testimony of the ceiling broken by Nidhi Jain in a domain that has always been considered male-dominated. She has again shown her mettle and given the in-depth knowledge and understanding of the domain, Sleuths India is sure to see similar stellar shows from her in the days to come. |
| | Sleuths India MD makes the company proud once again : - Sleuths India director Nidhi Jain finds a big Deccan Herald Bangalore coverage. Sleuths India has excelled again. This time, its director Nidhi Jain finds a big coverage in the Bangalore edition of Deccan Herald newspaper. She features in a 26 August, 2022 story that headlines, "More women are joining detective agencies in Bengaluru" and describing the rising trend of females joining the investigation space. In the report, Nidhi, a recipient of the prestigious the "Investigation Leadership Award in 2017" and a professional with over two decades of industry experience, dwells on the reasons behind the gradual surge of interest from women to join is what is definitely a challenging and adventurous industry. The director emphasizes how ladies are defying the norms, breaking the convention and entering a male bastion. The coverage in itself a beautiful tribute to women sleuths like Nidhi Jain who fought against all odds and excelled in a very challenging industry like private investigation. |