Detecting and Curing Black Magic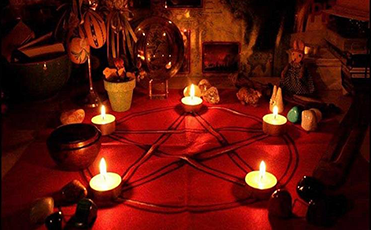 Black magic is an illegal practice in many parts of India. Several states like Maharashtra, Kerala and Karnataka already have anti-superstition bill / law in place.

Governments there are aware about the dangers of black magic and therefore look to use right measures to protect the society and common people against this evil custom.

So, any form of superstitious practice done with the purpose to harm others is a punishable offence in those states. If anyone is caught using supernatural powers for wicked and selfish purposes he/she might land behind the bar.

Clearly, good days are not ahead for crooked black magicians and sorcerers who claim paranormal powers and offer dubious services to help people gain by inflicting pain on others.

The law will take its course if anybody attempts to inflict an evil eye on people, or on their prosperity, or intend to cause mortal injury.
What is Actually Black Magic?
Black magic is basically a type of magic but with an evil design. Unlike any other magic, it is practiced with bad intentions, often with the purpose to put someone in harm's way, either physically, emotionally, financially or otherwise.

In many parts of the world, it exists for millennia albeit in different forms and shapes -- it may take the form of religious activities or inhuman practices to exploit people, cause harm to others or cause injury, or inflict pain on people with malicious intent.

Any of these can be an example of black magic -
Rituals that may cause physical or emotional injuries, intended or otherwise
Invocation of ghosts or mantras for malevolent gains over others
Performance of any evil act to harm others
When to Contact Sleuths India for Help?
Sleuths India is an award-winning private detective agency with a clear understanding of the risks black magic can cause to any society and its people. We are also familiar with the fact that how some people can go to any extent with their evil designs and harmful practices.

More so, our offices across the country regularly get black magic cases of different nature, failing in either regular category or those from the psychological ones. You can always rely on our over two-decades of experience in cracking most complex of cases with ease.

You can contact us for help in situations like –
You want to catch someone has done black magic upon you with a mala fide intention
You want to know about the tantric, aghori the offender may have met to harm you physically, financially, emotionally
You fear someone is watching you, or keeping a tab of you activities all the time
You're suspicious about someone, or doubt someone is controlling your brain through satellite
You think someone has installed a camera in your house to track and monitor your movement
You see someone around all the time but others can't see them and you want to catch that person
If you do face any of these challenges, Sleuths India can help. We have the experience, experts and technology to solve cases related to black magic.

How Can Sleuths India Help?
At Sleuths India, we rely on scientific methods and logical approach to handle black magic cases of any type. Our record is impeccable in delivering success against people using unnatural methods and employ unlawful tactics to gain over others. We also consult people about how to catch people who have done black magic against them. Our method is helpful and it can help you know the culprit and socially ridicule them.

We can help you in many ways -
Meticulous planning with the use of cutting-edge tools, cameras and gadgets
Employment of counter surveillance & debugging techniques
Tracking movements of people you have doubts against
Gathering evidence for any act that falls under black magic
Carrying out sting operation against babas (godmen) to expose their shenanigans
Finding out if someone is listening to you, or if someone is spreading negativity against you
In overall, we can reach to the root causes of those cases and help clients easily by relying on the scientific methods and new-age approach.

So, hire Sleuths India to strike a blow against the evil design of black magic!