India's Best Private Detective Agency In Lucknow - Awarded by The President of India (2012)
Hiring private detective agency is no more a privilege available only to those in metro or big cities of India. In fact, people everywhere now increasingly feel the need of investigation services to solve a variety of their cases. Sleuths India is familiar with this changing reality and aims to be at the forefront of the trend. So, it now extends operations to Uttar Pradesh by opening a branch office in Lucknow.
It brings the most experienced of private detectives in Lucknow and offers investigative services to the whole of state. It has chosen an ex. Inspector General of Police (Special Enquiry), Mr. R. P. Singh to head the UP operations, and help provide services to cities like
Delhi
,
Mumbai
,
Bangalore
,
Lucknow
,
Kolkata
,
Pune
,
Chandigarh
,
Hyderabad
,
Chennai
and
Ahmedabad
. He is a former distinguished officer with four decades in the Police department and with several awards to his credit.
Serving as the IG police, Mr. Singh was instrument in cracking many complex cases for the department and is now, post retirement, dedicating his energy and experience to Sleuths India. He's been a decorated officer all through the service period, so understands the state of Uttar Pradesh better and knows how to crack cases requiring investigation skills of high caliber.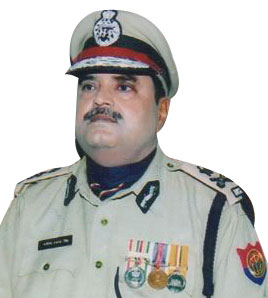 Mr. Singh draws on his years of experience in investigation and helps people who have always needed the expertise of a top detective agency in Lucknow. He combines his detective skills with departmental links to add a new dimension to the space. Being a retired IG of Police, he helps maintain a better sync with the department and benefit the agency a great deal.
In R. P. Singh, Sleuths India has an able head who helps the agency benefit people from best detective agencies in Lucknow as showcase expertize in cracking a variety of cases. People in the state can now look to hire the
detective agency in lucknow
for cases as varied as matrimonial investigation, corporate investigation, missing person report etc.
More so, world-class detective service in Lucknow is a reality and people can also save the embarrassments involved with reporting cases to police. After all, most people want to avoid the hurdle of deposing in court or being dragged to a lengthy process. They can now approach private detectives
in lucknow
for those cases they want to solve in a secret manner without involving the police.
They now have top private
detective
investigators
agency
in Lucknow to bring them the much-needed secrecy and solutions. They can trust an award-winning agency with over 25 years of domain experience and having solved over 10,000 cases. They can rely on a brand which is being equipped with the latest gadgets and equipment, is more than capable of solving cases of any scale and nature.
It has not only has the largest team of investigators in the domain but has possesses a strong network and pan-India presence. Besides, Sleuths India is an agency whose MD, Mr. Naman Jain has won the 'Young Investigation Entrepreneur Award' (awarded By the President of India, 2012) and the "Investigation Entrepreneur of the Year Award" for 2014 (by MoS, Ministry of Home Affairs).
The agency, its MD and director Nidhi Jain are always on the front pages of media for their good works in the domain. In overall, the people of Uttar Pradesh can feel confident about finding solutions to their problems with an able private detective agency by their side.
Contact Person :

Mr. Naman Jain
Managing Director
Email : naman_j@sleuthsindia.com

Ms. Nidhi Jain
Director
Email : nidhi_j@sleuthsindia.com

Brig. Dalip Kapur
(Former Army Veteran)
Associate Vice President
Email: brig.kapur@sleuthsindia.com

Mr. L. R. Gupta
Head - Investigations Wing
(Former Intelligence Bureau Officer)
Email : lr.gupta@sleuthsindia.com

Mr. R. P. Singh
Head - Legal and Vigilance
(Former IG Police)
Email : rp.singh@sleuthsindia.com

Mr. Ashoke Chakraborty
Regional Head - Eastern Region
(Former Dy. Commandent-CISF)


Email : ashoke@sleuthsindia.com

Ms. Jaya Dey
Director - Administration & Marketing


Email : jaya@sleuthsindia.com

Ms. Gagan Manohar
Personal Relationship Officer - Bangalore (Forensic Expert)


Email : gagan@sleuthsindia.com

Ms. Titiksha Gaikwad
Personal Relationship Officer - Mumbai (Forensic Expert)


Email : titiksha@sleuthsindia.com

Ms. Dalima Poojari
Personal Relationship Officer - Ahmedabad (Forensic Expert)


Email : dalima@sleuthsindia.com
Addresses :

Delhi (Head Office) :
32, First Floor,
Gagan Vihar, Delhi-110092
Contact Nos. : 011-41704344
E-mail : support@sleuthsindia.com

MUMBAI ( Corporate Office ) :
Level 1, Block A, Above Tata Motors,
Entry Gate Opposite HDFC Bank,
Shiv Sagar Estate, Dr. Annie Besant Road,
Worli, Mumbai- 400018
Contact Nos. : +91-22-6945-6074 (Multiple Lines)
E-mail : support@sleuthsindia.com

BANGALORE (Branch Office) :
Level 9,
Raheja Towers,
26-27, M G Road,
Bangalore-560001.
Contact Nos. : 080-67920788 (Multiple Lines)
E-mail : support@sleuthsindia.com

KOLKATA (Branch Office) :
RDB Boulevard, 5th Floor,
Plot K-1, Sector V,
Block EP & GP,
Salt Lake City, Kolkata,
West Bengal 700091
Contact Nos. : 033- 66374973 (Multiple Lines)
E-mail : support@sleuthsindia.com

PUNE ( Branch Office) :
Sky Vista, Ground Floor,
Next to Eminence IT Park,
Airport Road, Viman Nagar,
Pune, Maharashtra 411014
Contact Nos. : 020-66482140 (Multiple Lines)
E mail : support@sleuthsindia.com

LUCKNOW (Branch Office) :
567/118, Kamal Bhawan, New Sindh Nagar,
Near – Sasoveer Baba Mandir, Krishna Nagar,
Kanpur Road Lucknow (UP) -226023
Contact Nos. : 0522-4303536 (Multiple Lines)
E-mail : support@sleuthsindia.com

Chandigarh (Branch Office) :
70, Tower A,
Godrej Eternia,
Industrial Area Phase I,
Chandigarh- 160002
Contact Nos. : +91-172-4071529 (Multiple Lines)
E mail : support@sleuthsindia.com

Hyderabad (Branch Office) :
Level 1, Mid Town Plaza,
Road No 1, Banjara Hills,
Hyderabad, Telangana 500034
Contact Nos. : 040-4433 4026 (Multiple Lines)
E-mail : support@sleuthsindia.com

CHENNAI (Branch Office) :
Level 6, Chennai City Centre,
10/11, Dr Radha Krishnan Salai,
Loganathan Colony,
Mylapore, Chennai,
Tamil Nadu 600004
Contact Nos. : 044 - 42218018 (Multiple Lines)
E-mail : support@sleuthsindia.com

South Delhi ( Branch Office ) :
Upper Ground & First Floor, Shop No.SG-1 & SF-1,
Savitri Cinema Complex,
Greater Kailash-II,
New Delhi-110048
Contact Nos. : 011-41814344
E-mail : support@sleuthsindia.com

Ahmedabad (Branch Office) :
2nd & 3rd Floors, East Wing,
Privilon, Sarkhej - Gandhinagar,
Ahmedabad, Gujarat 380054
Contact Nos. : +91- 9560604019 (Multiple Lines)
E-mail : support@sleuthsindia.com